Pediatric Dental Service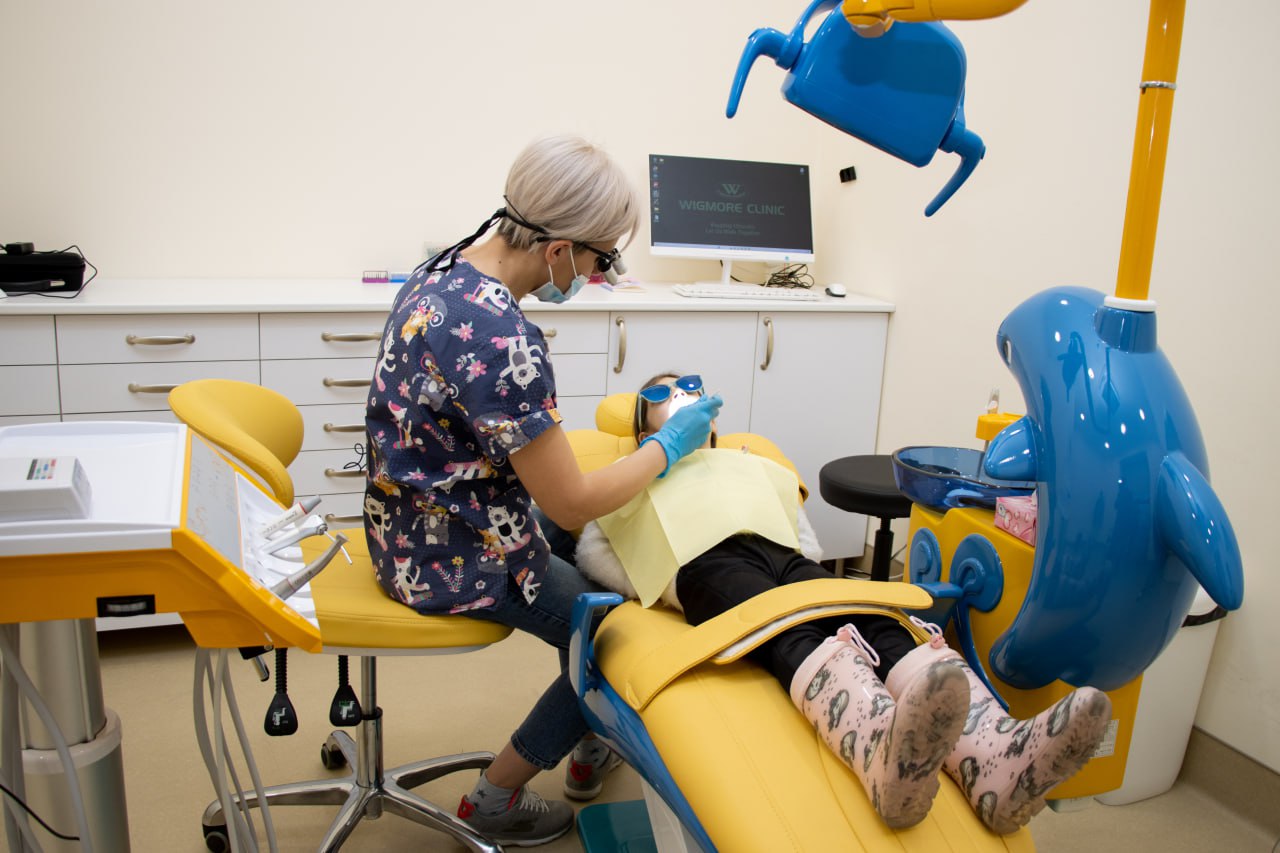 The Pediatric Dental Service of "Wigmore Women's and Children's Hospital" carries out all types of children's dental interventions. Thanks to the patient and professional work of the experienced specialists of the service, interventions for children pass without any pain or fear. Here, each child is given an individual approach. If necessary, dental interventions are also performed under general anesthesia.
The following services are provided:
Treatment of caries in milk and permanent teeth
Treatment of caries complications in milk and permanent teeth (pulpitis, periodontitis)
Treatment of permanent teeth with malformed roots
Caries prophylaxis (fluoridation, sealants)
Tartar cleaning and dental polishing
Treatment of oral mucosal diseases (stomatitis, candidiasis)
Sanitation of the oral cavity under general anesthesia.
Ensuring the quality of disinfection that meets the international standards, high-quality tools and materials is a priority for us. Timely and correct treatment of pediatric teeth is the key to a healthy and beautiful smile in adulthood.
Doctors
Anzhela Papoyan
Pediatric dentist
Anzhela Papoyan
Speciality
Pediatric dentist
Education
2022 - up to now
Yerevan State Medical University after Mkhitar Heratsi, residency: pediatric dentistry,
2007 - 2008
Yerevan State Medical University after Mkhitar Heratsi, Internship,
2002 - 2007
Yerevan State Medical University after Mkhitar Heratsi, Faculty of Dentistry
Trainings, certificates
01.10 2022
Certificate, Tomorrow Tooth Colloquium, Murcia-Spain
11.05.2019 - 11.06.2019
Certificate, Denis Krutikov's course - The Art of Restoration
10.23.2017 - 12.08.2017
Certificate, advanced training course in the field of Periodontology, Yerevan State Medical University after Mkhitar Heratsi, Yerevan, Armenia
10.30.2015 - 10.31.2015
Certificate, Patient-Centered Outcomes in Endodontics and Restorative Dentistry, Naples, Italy
09.18.2015 - 09.19.2015
Certificate, seminar on "Aesthetic rehabilitation in the frontal region using adhesive composite and ceramic restorations in a minimally invasive concept", "STOMLINE" company, Yerevan, Armenia
22.02.2015
Certificate, Predictable and cost-effective endodontic treatment, Level 2, Yerevan, Armenia
07.02.2014
Certificate, lecture and master class "Tooth optics and its reproduction in restoration. Walks and Methods", PROTEKO Training Center, Yerevan, Armenia
12.18.2013
Certificate, seminar on "Revision of the root canal system and prognosis of an endodontically treated tooth", IQ PROF company, Yerevan, Armenia
11.16.2013
Certificate, author's course "Mastery of Prosthetics", Modern and exclusive types of ceramic restorations based on natural teeth and implants, Masterskaya Smile company, Dentax company, Yerevan, Armenia
25.10.2013
Certificate, seminar on the "Modern approach to endodontic treatment" topic, Dentsply company, Yerevan, Armenia
26.10.2013
Certificate, master class in endodontics using Dentsply Maillefer rotary instruments, Dentsply company, Yerevan, Armenia
Work experience
2020 - up to now
Wigmore Hospital For Children, pediatric dentist
2020 - up to now
ALPHASTOM, dentist - therapist
2017 - 2020
ABRAHAMYAN DENTAL AND IMPLANT CLINIC, dentist-therapist
2015 – 2019
"White Fortress" dental medical clinic, dentist-therapist,
2013 - 2015
"TeliaStom" dental medical clinic, dentist-therapist
2013 - 2015
"Bianco" dental medical clinic, dentist-therapist
2009 – 2012
"Dent" dental medical clinic, dentist-therapist
Gayane Manukyan
Pediatric dentist
Gayane Manukyan
Speciality
Pediatric dentist
Phone
+374 12 345 678
Armenuhi Aleksanyan
Pediatric dentist
Armenuhi Aleksanyan
Speciality
Pediatric dentist
Phone
+374 12 345 678
Ashkhen Mashuryan
Pediatric dentist
Ashkhen Mashuryan
Speciality
Pediatric dentist
Phone
+374 12 345 678