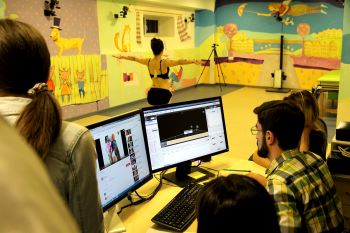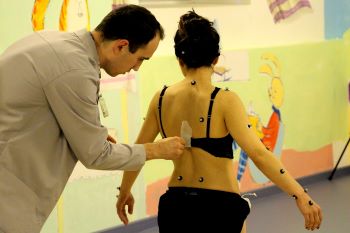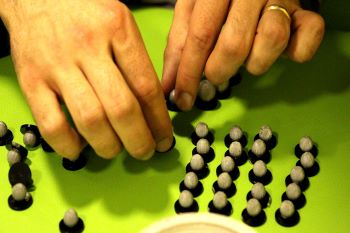 Gait is of great importance for human health and social life. Therefore, any problem disrupting the gait directly affects the quality of life. There are many methods to analyze gait. However, the most advanced method is a three-dimensional optical motion capture, which is performed in a special gait lab.
Gait analysis laboratory.
This is a set of devices that allows you to get full information about all gait parameters.
What does the gait laboratory give us?
Objective information about the gait, through which is possible to:
analize the muscle groups functions while walking
evaluate the results of the intervention (before and after)
analize deeply the biomechanics of gait
see how joints move while walking
use the information in science and practice evidence-based medicine
As a result, the patient receives an individual approach and more precise treatment.
Diseases with gait disorders
Lesions of the central nervous system (eg: cerebral palsy, myelomeningocele, etc.)
Peripheral nervous system disorders
Congenital anomalies and structural irregularities in the lower extremities
Injuries and conditions after injury of the lower limbs
Amputation and prosthesis of the lower limb.
Doctors
Hovhannes Dashtoyan
Research engineer, bioengineer
Hovhannes Dashtoyan
Speciality
Research engineer, bioengineer
Phone
+374 12 345 678
Education
2022 – 2024
American University of Armenia (AUA), Master of Business Administration - MBA
2015 - 2016
University of Basque Country, PhD Student, Erasmus Mundus BACKIS, Bilbao, Spain
2007 - 2016
National Polytechnic University of Armenia (NPUA), B.S, M.S., Ph.D. in Microelectronics and Nanotechnologies
2011 – 2013
International Scientific-Educational Center, NAS RA, Master's Degree in Psychology
Work experience
2022 – up to now
Wigmore Hospital For Children, Responsible engineer in Intraoperative Neuromonitoring Service
2017 - up to now
Wigmore Clinic, Responsible engineer of "STEP - Motion Research Laboratory" and Intraoperative Neuromonitoring Service.
2019 - up to now
American University of Armenia (AUA), Zaven & Sonia Akian College of Science and Engineering, TA, Adjunct Lecturer
2021 - 2022
Dyutsazn CJSC, R&D, Product Management, Responsible for the research and development of the ''War Game'' product.
2019 - 2022
Instigate Travel CJSC, General Manager, Organizing and managing tours and travel events in Armenia.
2018 - 2019
Neurozentrum Bern, Engineer, Responsible engineer for Intraoperative Neuromonitoring (IONM) service. https://siom.ch/pd-hovhannes-dashtoyan, Switzerland
2017 – 2018
National Polytechnic University of Armenia, Assistant to Lecturer, Lectures and lab sessions in the department of Microelectronics and Biomedical Devices of the faculty of Cybernetics.
2014 - 2022
Different Scientific Institutions, Researcher
2021 - 2022
Institute of Physical Researches of NAS RA, Researcher
2018 - 2020
Institute of Radiophysics & Electronics of NAS RA, Researcher
2014 - 2015
"Micro- and Nano-electronics" Laboratory in NPUA, Researcher
2014 - 2015
CANDLE Synchrotron Research Institute, Researcher
2008
Yerevan Scientific Research Institute of Communications, Junior Engineer, Engineering in the thin film production of microcircuits and PCB design.