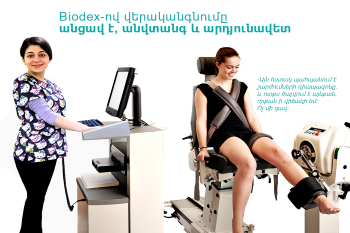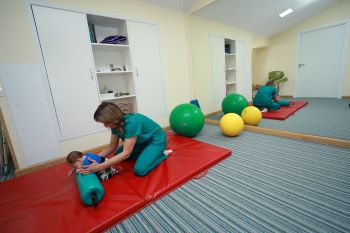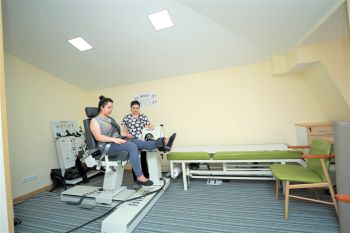 Wigmore Clinic's physiotherapy department provides rehabilitation services for adults and children. Department deals with following conditions:
Neurologycal disorders (Cerebral palsy, paresis, etc.)
Physical development delay
Congenital muscle torticollis
Lower back pain of different etiology
Postsurgical contractures
Post stroke rehabilitation
The department has a multi-joint Biodex system, which can reproduce the movements of all joints. Biodex is used in sports medicine and rehabilitation treatment. One of the advantages of the system is that it can perform movements with multiple repetitions and for a given range of movements. The system is used widely in sports medicine, orthopedics, pediatric rehabilitation, neurorehabilitation, geriatric rehabilitation and medical sciences.
The system is very effective for :
hamstring muscle injuries
anterior cruciate ligament injuries and reconstructive surgeries, arthritis,
patellofemoral dysfunctions,
total hip and knee replacement surgeries,
frozen shoulder syndrome,
reconstructive surgeries of shoulder and muscle strengthening.
Doctors
Alla Abrahamyan
Physiotherapist
Alla Abrahamyan
Speciality
Physiotherapist
Ruben Sahakyan
Physiotherapist
Ruben Sahakyan
Speciality
Physiotherapist
Anna Martirosyan
Physiotherapist
Anna Martirosyan
Speciality
Physiotherapist
Phone
+374 12 345 678
Education
2022 - up to now
IRF, Fellow
2021
Armenian state institute of physical culture and sport, PhD
2016 - 2018
Yerevan State University, Master of Psychology, (psychology of sport and injury)
11.2015
School of Young Leaders, Leadership,
09.2013 – 06.2014
Russian International Olympic University (Sochi), Master of sport administration
2012 - 2013
Armenian State Institute of Physical Culture, Master of kinesiology
2008 - 2012
Armenian State Institute of Physical Culture, Bachelor of Kinesiology
2009 - 2010
Armenian State Institute of Physical Culture, Massage therapist and instructor in curative physical culture
Trainings, certificates
15.03.2023
Rehabilitation Grand Rounds, Manual therapy for the post-surgical athletes, HSS, USA.
18.05.2022
Rehabilitation Grand Rounds Total Ankle Arthroplasty: A New Step Forward", HSS, USA
16.03.2022
Rehabilitation Grand Rounds Soft Tissue Techniques in the Rehab & Performance Setting: Unravelling Some of the Mystery", HSS, USA.
19.05.2022 – 21.05.2022
Spring School on Stroke, Gyumri,
11.05.2022
Latest news on osteoporosis, Yerevan, RA
30.10.2021
Hormones and sports, Yerevan, RA
25.09.2021 – 26.09.2021
Polytrauma, pain analgesia, Aghveran, RA
19.09.2018 – 22.09.2018
International Conference of Orthopedics and Traumatology, Tbilisi, Georgia
18.11.2017 – 25.11.2017
TAFISA "Sport for All" World Congress, Seoul, South Korea.
25.11.2016 - 28.11.2016
Paths to success-inspiring future sport leaders' international seminar, Berlin, Germany.
30.10.2016 – 05.11.2016
Communities and Crisis – Inclusive Development through Sport, 9th international seminar, Rheinsberg, Germany
09.2016
23th International Seminar for Postgraduate Students, in the International Olympic Academy, Olympia, Greece
2015
Training for trainers annual training of healthy life style, in Bulgari, Borovets.
2015
55th International Session for young participants in the International Olympic Academy, Olympia, Greece.
2015
Athletes in Action seminar for team physicians.
2014
Young Scientist School seminar
2014
Practical training at Organizing committee of Sochi during Winter Olympic Games to understand the organizational and management aspects of Games, sponsorship, media and broadcasting
2014
Observation Program conducted by International Paralympic committee during Sochi Paralympic Games and submit program report
2013
"Sport and Environment" seminar, organized by the International Olympic Committee in Sochi, Russia.
2012 – 2013
Internship in Armenian Red Cross as a physiotherapist
2011
"Hand Clinic" seminar
2011
Inernship in children's rehabilitee center "ArBeS".
2008
"Athletes in Action" seminar
Work experience
01.2018 – up to now
Wigmore Clinic, BIODEX specialist, physical therapist
2020 – up to now
Armenian State Institute of Physical Culture and Sport, Lecturer – Chair Physical Rehabilitation
03.2018 – 06.2016
Yerevan State University Ijevan branch, Lecturer
07.2017 – 11.2017
Korea Institute of Sport Science (KISS), (Seoul, South Korea), Research fellow, Department of Sport Science and Management
10.2016
International Council of Sport Science and Physical Education (Berlin, Germany), Project assistant
2014 – 2017
Olympic cycling school, kinesiotherapist, massotherapist
2014 - 2017
Ministry of sport and youth affaires of RA, Expert in the sport medicine and anti-doping department
2012 – 2013
Armenia Red Cross rehabilitation center, Physical therapist,
2011 – 2013
Children's Association of Armenia, physiotherapist